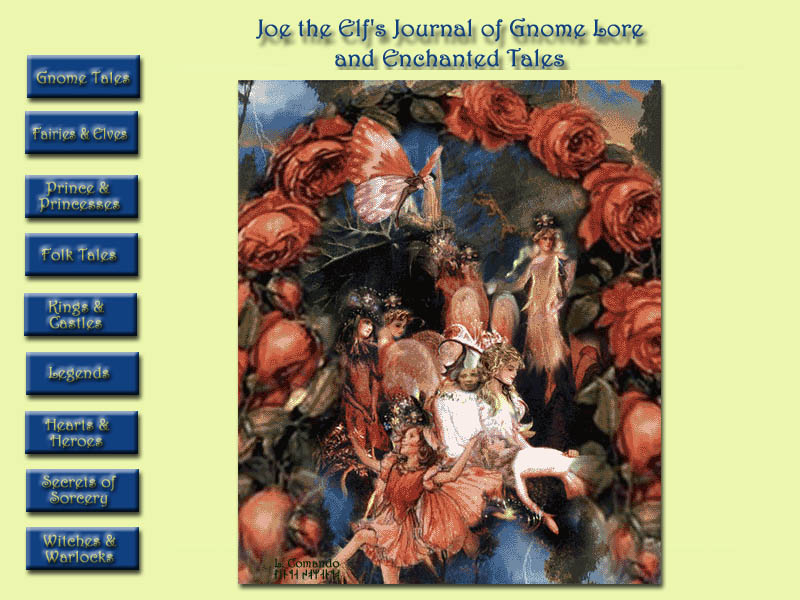 FAIRIES AND ELVES
Every one in the Northland from Newburgh to Plattsburgh knows of the fairy fort between Sundown and Peekamoose.
It looks like a level field that is encircled by a high mound of earth.
One moonlit night after being thrown out of his house by his landlord, poor little George Herbert was walking in the field and got tired so he lay down and fell asleep on the mound.
He was awakened suddenly by the sweet sound of music. He saw a light streaming from a doorway in the mound, and entered, and crept along into a beautiful palace under the earth. Thousands of lights hung from the ceiling. Hundreds of pretty fairies in green coats and green gowns with red caps on their heads were dancing on the polished floor. As they danced, they sang over and over again, "Monday, Tuesday! Monday, Tuesday! Monday, Tuesday!"
"That is a good tune," George said with a deep bow, "but it is rather short. Why don't you try this. " And George sang this to the tune, "Monday, Tuesday, Monday Tuesday, Monday, Tuesday and Wednesday! Thursday! Friday and Saturday!"
The fairies at once began to sing as George had suggested and it made the palace ring with the new song.
Their leader told George that it was a great improvement and asked, " Now is there a favor that you would like us to do for you? Just say the word and it will be done!"
"If you would kindly take this hump off of my back, I would be the happiest man in the Northland!" replied George.
The fairies not only took his hump away, but they brought out a sack of gold, and George filled his pockets with half of it and left the rest.
In the morning he hurried to his landlord and paid his rent and recovered possession of his farm.
The landlord was also a hunchback, but he was a mean miserly man. His name was Walter Crickman.
"You are looking well George," he said as he took the money from George. 'Where did you get this money from?"
George told him about the fairy palace. The next night Walter went there to see if he could get something from the fairies.
As soon as the doorway opened he tramped into the palace and shouted to the dancers.
"That's nothing of a song you are singing, " he said, "Why don't you bring in all of the days of the week like this."
"Monday, Tuesday, Wednesday, Thursday, Friday, Saturday and Sun-Sun-Sunday!"
Walter didn't have an ear for music. And worse than that, the fairies were heathens and nothing made them more angry than to hear the word "Sunday"!
The fairies all gathered around Walter in a very threatening tone their leader asked Walter, "What are you doing here?"
"To get what my friend George left behind," said Walter thinking of the half sack of gold that George had left.
"Very well," said the fairy, "you shall indeed get what George left behind!"
Then taking George's hump out of a bag, he put it on Walter, and from that time on the miserly old landlord had two humps between his shoulders instead of one.
So Walter was punished for his avarice and for trying to deceive the fairies.
Back to Joe the Elf's Home Page
Back to The Gnome Home
Site Map of the Gnome Gneighborhood